The best Tapping Machine Manufacturer in Jamnagar, Gujarat
We are a value-driven organization renowned in the industries as a celebrated manufacturer, supplier, and exporter of the tapping machine, a machine that is designed with the highest concentration to deliver the exemplary quality of tapping machine that is commendable for its précised tapping and no breaking of taps, thus reduce the cost of tapping ultimately.
The exemplary output of this tapping machine has made us recognized as a specialized tapping machine in the industries. This tapping machine is made employing top-quality cast iron material to impart sturdiness together with vibration-free and distortion-free operation.
This tapping machine gives outstanding efficiency and longer shelf life, in contrast to conventional belts, thanks to a strict quality check regime of our team which keeps an eye on quality beginning from the procuring of proven quality material to the delivery of the end product. The quality of our tapping machine is highly appreciated by a large group of clientele all around the world too.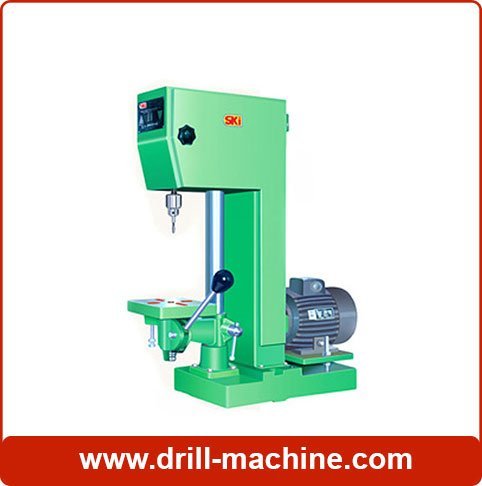 Tapping Machine Manufacturer
The accurate integration of the clutch assembly, gear drive, and spindle of the tapping machine is enabled to execute every operation with the highest accuracy. The spindle which is ingeniously integrated such that rotates in both anti-clock and clockwise directions, wherein the anti-clock rotation is set to rotate in the speed of the clockwise direction, is also the reason for eliminating the breaking of the tap.
Our in-house facilities and dexterous workforce are what have helped us to carry out the cutting-edge range of the tapping machine that is immensely applauded for its high efficiency, high output, precision output, smooth operation, and impeccable operation. Further, our customer-oriented approach is what facilitates us to edge over competitors within a short span of time. We provide this tapping machine is the widest spectrum as well as customized specifications, as detailed by clientele at competitive rates in the market.
TECHNICAL SPECIFICATIONS

Tapping Capacity
5 mm
No. Of Spindle Speed
530-810-1180-1730-2500
Spindle Nose Taper
jacob 2 (1) taper
Spindle Center to Column
87 MM
Maximum Distance Between Chuck To Table
200 MM
Maximum Distance Between Working Surface To Table
157 x 129 MM
Column Diameter
41 MM
Base To Machine
378 x 223 MM
Overall Dimensions
630 x 360 x 495 MM
Motor Speed
1440 R.P.M.
Motor 3 Phase, induction, A.C.
0.37 KW. / 0.5 HP.
Weight of Machine (Approx.)
45 KG
Glance On The Best Features Of Tapping Machine
Here We Provide Exclusive Accessories & Equipment For Drill Machine
Standard Accessories: Pulley for Motor
Extra Accessories & Equipments: 0.50 HP 1440 RPM Electric Motor, Chuck, V-Belt, Switch.
Key Tag: Tapping Machine Manufacturer | Tapping Machine Supplier | Tapping Machine Exporter | Drill Machine Tools | Drill Machine Tools Manufacturer | Drill Machine Tools Supplier