Top 40mm Drill Machine manufacturer, Supplier at best price in India
Modularity… Performance… Precision is what our 40mm drill machine known for, available at most competitive rates worldwide.
We are prominent as a manufacturer, supplier and exporter among metal industries for our nonpareil quality 40mm drill machine, is a drill machine with the capability to attain drilling, reaming and tapping of the 40mm dimension. This 40mm drill machine is widely used to accomplish large sized drilling in the several metal industries and designed to effectively operate on any type of material.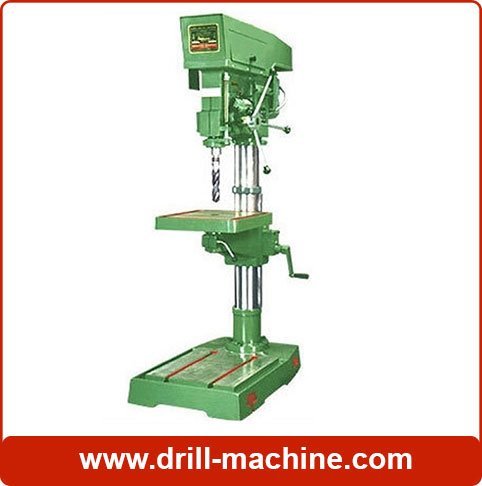 This 40mm drill machine is devised by adopting cutting-edge technology and according to industry standards to deliver the highest standard 40mm drill machine that proves its effectiveness for better efficiency and higher precision. This 40mm drill machine is famous for featuring accurate drilling or other similar operations, thanks to the team of the quality analysts for stringently executing quality-controlled manufacturing.
The insight towards its application and accordingly application requirement has enabled us to decide on the duly construction material that is elite to carry out a determined quality range of this 40mm drill machine. We as a manufacturer, supplier, and exporter of drill machine has utilized the toughest alloy steel-based gears to promote accurate drilling in any type of the toughest material with ease, whereas the other parts are manufactured from the finest grade stainless steel material to bestow rugged construction to the 40mm drill machine.
If consumers are looking for vibration-free and noise-free drill machines, then they are at the right place, the rugged construction together with the considerable watchfulness towards pulley and gear balancing has enabled us to deliver a range of 40mm drill machine that does not cause vibration and noise at all. We make this 40mm drill machine available in a broad portfolio in order to match the requirements to get the job done perfectly. The entire range is extensively appreciated for its rugged construction, adherence to quality standards, and smooth operation all throughout its lifetime.
TECHNICAL SPECIFICATIONS
Capacity in steel
38 mm
Spindle Speeds 8 nos in RPM
8 (105 rpm to 1100 rpm)
Spindle nose Taper
Morse Taper No.4
Spindle centre to column
244 mm
Spindle Trave
150 mm
Size of Table
425 Diameter
Maximum distance spindle to Table
673 mm
Maximum distance spindle to Base
1060 mm
Working surface of base Column Diameter
115
Machine Base
660 x 420 mm
Overall Dimensions
1778 x 860 x 495 mm
Motor Speed
0.93 KW , 0.55 KW
Motor 3 Phase, induction, A.C.
1400 rpm / 700 rpm
Weight of machine
330 kg
Glance On The Best Features Of 40mm Drill Machine
Here We Provide Exclusive Accessories & Equipment For Drill Machine
Standard Accessories: Pulley for motor & Drift Key
Extra Accessroies & Equipments : 1 HP 1440 RPM Electric Motor,Drill Chuck, Chuck Arbour, V-belt switch, Drill Vice & Fine Feed Attachment.
Our qualitative gamut of the drill machine is proficient for boring, drilling, reaming and tapping in Concretes, Rocks, Heavy duty machines, Wood, Glass, Plastic and Metal sheets and finds its application in machine tools, woodworking, Automotives, tool rooms, pharmaceutical plants, pipe fittings, agricultural factory, power sector, chemical and petroleum industry, cement factories, etc… Get a FREE quotation and FREE advice today…!!
Key Tag :- 40mm drill machine, pillar drilling machine, 40mm pillar drill machine, drilling machine, pillar drill machine 40 mm, pillar drilling machine manufacturer, drilling machine India