S.K. Industries is the best platform for manufacturer of drill machine, 6mm mini drilling machine manufacturer
Modularity… Performance… Precision is what our 6mm drill machine known for, available at most competitive rates worldwide.
Our expertise in manufacturing 6mm pillar drill machine and understanding individual's requirement has made us the distinguished manufacturer, supplier and exporter in the domestic and international market. Besides this, we have kept our pledge for quality and thereby we have created a considerable presence in the market for the quality in product, service and support.
Our constant endeavors in a direction to update with the current technology and adopting the one has enabled us to deliver the range of 6mm pillar drill machine that is absolutely known for advancement.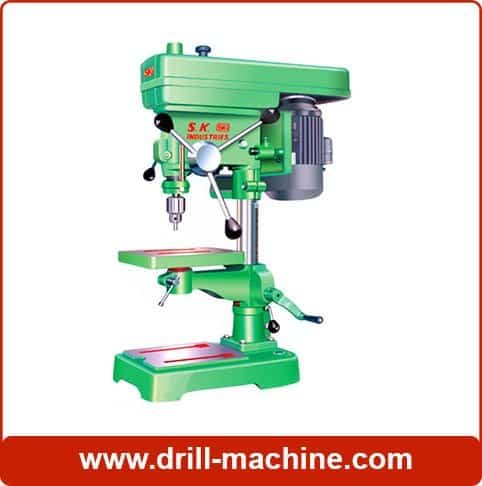 The use of the proven quality raw material in the construction of the parts of the pillar drill machine with the highest alertness concerning dimension is another reason for the excellence in the entire range of the 6mm pillar drill machine.
This 6mm pillar drill machine is our one of the rigorously sought after drill machine in the industry to carry out the very small dimensional fret in a precise manner. Additionally, the vibration free and noise free operation even under the the harshest condition is what makes our 6mm pillar drill machine the best choice to accomplish drilling, reaming and tapping effortlessly. The use of the certified toughest material in the manufacturing of the gear, spindle and pulley is the reason for the potency of this 6mm pillar drill machine to execute smoothly for any type of material.
We as a manufacturer, supplier and exporter of the 6mm pillar drill machine have made it accessible in the different specification to meet requirement of the every application. Furthermore, customization is also possible, when the required size of the pillar drill machine is not available. Both ranges of the 6mm pillar drill machine conform to the ISO 9001:2000 standards and is available at the possible lowest rates in the industry.
TECHNICAL SPECIFICATIONS
Drilling Capacity in Steel
6 mm
No.Of Spindle Speed
5000 to 6000
Spindle Nose Taper
jacob 2 (1) taper
Spindle Center to Column
153 MM
Spindle Travel
65 MM
Maximum Distance Between Chuck To Table
135 MM
Maximum Distance Between Chuck To Base
360 MM
Working Surface of Base
208 x 192 MM
Working Surface of Table
210 x 207 MM
Column Diameter
47 MM
Base To Machine
320 x 235 MM
Overall Dimensions
840 x 320 x 560 MM
Motor Speed
2800 R.P.M.
Motor 3 Phase, induction, A.C.
0.37 KW. / 0.5 HP.
Weight of Machine (Approx.)
42 KG
Glance On The Best Features Of 6mm Pillar Drill Machine
Here We Provide Exclusive Accessories & Equipment For Drill Machine
Standard Accessories: Pulley for motor & Drift Key
Extra Accessories & Equipments : 1 HP 1440 RPM Electric Motor, Drill Chuck, Chuck Arbour, V-belt switch, Drill Vice & Fine Feed Attachment.
Our qualitative gamut of the drill machine is proficient for boring, drilling, reaming and tapping in Concretes, Rocks, Heavy duty machines, Wood, Glass, Plastic and Metal sheets and finds its application in machine tools, woodworking, Automotives, tool rooms, pharmaceutical plants, pipe fittings, agricultural factory, power sector, chemical and petroleum industry, cement factories, etc… Get a FREE quotation and FREE advice today…!!