The Best 40mm Pillar Drill Machine Manufacturer in India
Modularity… Performance… Precision is what our 40mm pillar drill machine known for, available at most competitive rates worldwide.
With a strong adherence to ethics, we as a manufacturer, supplier and exporter has succeeded in acquiring considerable trust of the customers and hence become a credible name in the industries for the 40mm pillar drill machine. As this pillar drill machine has an aptitude to bore 40 mm diameter of the hole in the any type of material, has gained significant popularity in the industries addressing with heavy duty drilling, reaming and tapping applications.
This 40mm pillar drill machine is manufactured under the rigorous inspection of the quality analyst team teaming with the proven quality control processes to procure a high quality range of the 40mm pillar drill machine. Further, this 40mm pillar drill machine undergoes several qualities to ensure its quality measures and compliance with the set international standards. Rugged construction, high precision, high quality standards and smooth & easy operation are some of the aspects that have made our 40mm pillar drill machine a first choice to carry heavy duty drilling, reaming and tapping operation on any material.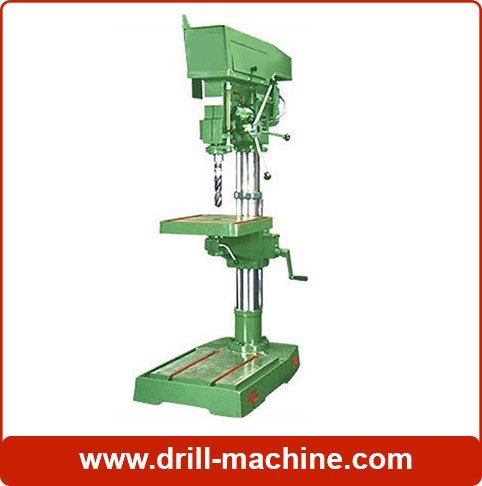 We as manufacturers, suppliers, and exporters of this pillar drill machine have become capable of introducing a 40mm pillar drill machine, utilized in heavy-duty applications, all because of an adroit team of professionals, an experts in their respective segments. Leveraging the elongated experience in the allied industries helped us to decide on the best suitable material we have used the toughest alloy steel material for the machine parts which are responsible for the bore hole, including the head, gear, and spindle, whilst the other parts are made of the proven quality seamless stainless steel material to ensure the robustness although the heavy-duty operations.
Keeping in mind the variegated needs of our clients, we have made this range available in different standard dimensions at industry-leading rates. The entire range of this 40mm pillar drill machine is guaranteed for its compliance with the ISO 9001:2000 standards and impeccable performance span the lifetime. This 40mm pillar drill machine has already gained fame in small to large-scale industries for its robust, consistent, cost-effective, and long-lasting performance, It also available in the bespoke specification on customer request.
TECHNICAL SPECIFICATIONS
Capacity in steel
40 mm
Spindle Speeds 8 nos in RPM
8 (105 rpm to 1100 rpm)
Spindle nose Taper
Morse Taper No.4
Spindle centre to column
244 mm
Spindle Trave
150 mm
Size of Table
425 Diameter
Maximum distance spindle to Table
673 mm
Maximum distance spindle to Base
1060 mm
Working surface of base Column Diameter
115
Machine Base
660 x 420 mm
Overall Dimensions
1778 x 860 x 495 mm
Motor Speed
0.93 KW , 0.55 KW
Motor 3 Phase, induction, A.C.
1400 rpm / 700 rpm
Weight of machine
330 kg
Glance On The Best Features Of 40mm Pillar Drill Machine
Here We Provide Exclusive Accessories & Equipment For Drill Machine
Standard Accessories: Motor Pulley & Switch
Extra Accessories: Drill Chuck, Arbour Mt-3, V-Belt, Drill Vice, Compound Sliding Table
Our qualitative gamut of the drill machine is proficient for boring, drilling, reaming and tapping in Concretes, Rocks, Heavy duty machines, Wood, Glass, Plastic and Metal sheets and finds its application in machine tools, woodworking, Automotives, tool rooms, pharmaceutical plants, pipe fittings, agricultural factory, power sector, chemical and petroleum industry, cement factories, etc… Get a FREE quotation and FREE advice today…!!