Top 13mm Drilling Machine Manufacturer and Supplier in India (Bharat)
Modularity… Performance… Precision is what our 13mm drill machine is known for, available at the most competitive rates worldwide.
We as a manufacturer, supplier, and exporter of the drill machine delighted to introduce a 13mm drill machine, wherein the figure prefixed with the machine specifies the size of the whole which can be conveyed with the offered drill machine. This 13 mm drill machine is highly used for conveying small-sized hole drilling, reaming, or tapping precisely. The large stock of this 13mm drill machine is available in the standard specifications to ensure prompt delivery and resolve the urgency of the drill machine, whereas a bespoke 13mm drill machine is available on the customer's request within the best possible time.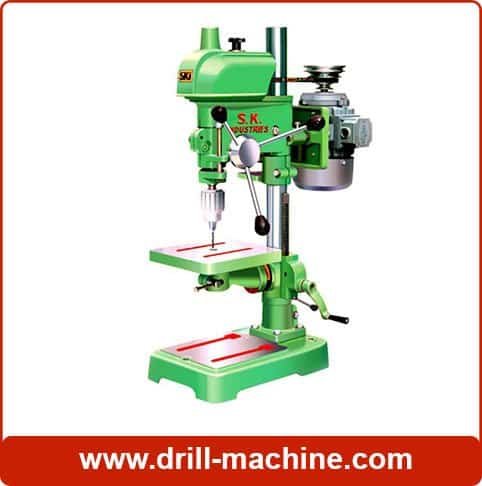 This 13mm drill machine has a spindle that is accurately dimensioned and precisely manufactured under the vigilance of the quality analyst in order to come up with a highly engineered drill machine with excellence in the spindle, one of the imperative parts of the drill machine that is viable for accuracy in the respective article. The offered 13mm drill machine is made of high-quality stainless steel material and conforms to the international quality standards and hence is assured the outstanding robustness. This 13mm drill machine is teamed with the highly efficient 3 Phase motor that promotes the highest yielding in a short period of time in a cost-efficient way. This 13 mm drill machine has immensely gotten popular in both the national and international markets for its absolutely vibration-free and noise-free operation.
However, 0.5 HP, 1440 RPM Electric Motor, Drill Chuck, Drill Vice, V-Belt, Switch is available for both standard and customized 13mm drill machine at the best industry rates.
TECHNICAL SPECIFICATIONS
Capacity in steel
25.4 mm (32 mm in C.L)
No. of Spindle Speed
8 (105 RPM to 1100 RPM)
Spindle nose Taper
Morse Taper No.3
Spindle centre to column
244 mm
Spindle Trave
150 mm
Size of Table
425 mm Diameter
Maximum distance between spindle to Table
673 mm
Maximum distance spindle to Base
1060 mm
Working Surface of Base
425 mm x 330 mm
Column Diameter
115 mm
Base Of Machine
660 mm x 420 mm
Overall Dimensions of Machine
1778 x 860 x 495 mm
Motor Speed
0.93 KW , 0.55 KW
Motor 3 Phase, induction, A.C.
1400 RPM / 700 RPM
Weight of machine(Approx.)
330 kg.
Glance On The Best Features Of 13mm Drill Machine
Here We Provide Exclusive Accessories & Equipment For Drill Machine
Standard Accessories: Pully For Motor (Aluminium).
Extra Accessories & Equipments: 0.5 HP 1440 RPM Electric Motor, Drill Chuck, Drill Vice, V-Belt, Switch.
Our qualitative gamut of the 13mm drill machine is proficient for boring, drilling, reaming and tapping in Concretes, Rocks, Heavy duty machines, Wood, Glass, Plastic and Metal sheets and finds its application in machine tools, woodworking, Automotives, tool rooms, pharmaceutical plants, pipe fittings, agricultural factory, power sector, chemical and petroleum industry, cement factories, etc… Get a FREE quotation and FREE advice today…!!